Management Education
The Construction Foreman
A course for members who are building their leadership experience
Explore construction management
ASSOCIATED BUILDERS AND CONTRACTORS
Program Overview
Great craftspeople can become great crew leaders, foremen, and supervisors, with proper support, guidance, and educational opportunities. The Construction Foreman is a one-day program that provides participants with the knowledge they need to build their supervisory skills.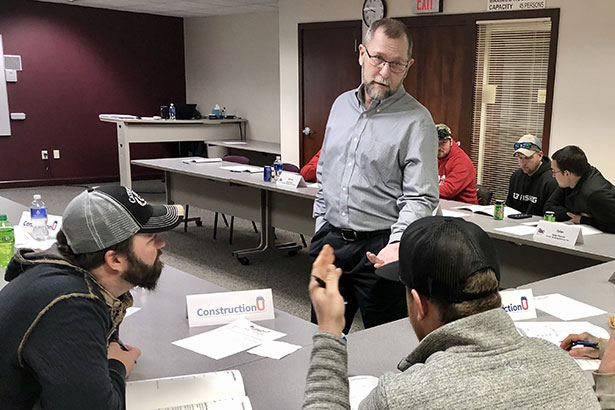 The Construction Foreman Registration
The Construction Foreman is a one-day program offered throughout the year. In-house training is also available.
Registration Deadline:
Three weeks prior to each class
Class Times:
7:30 a.m. to 3:30 p.m.
Fees:
$169 per registrant
March 27, 2020 – POSTPONED
Stevens Point
April 2, 2020 – POSTPONED
ABC Training Center, Madison
April 17, 2020 – POSTPONED
ABC Training Center, Madison
Who Should Enroll?
This program is for those with little or no formal supervisory training who supervise others in some capacity. This includes new crew leaders, foreman, and supervisors with anywhere from a few months to a few years' experience. Company owners and experienced supervisory are welcome attend with their new supervisors.
Course Outline
Leadership Keys
Leadership Keys
Your supervisory skills
What type of leader are you
Leadership Style
Assess Your Leadership Style
Discover your leadership style
Four guidelines to earn your crew's respect
Rational decision making
The Hats a Foreman Wears
The Hats a Foreman Wears
Acting like a foreman
Assessing your crew
Dealing with resistance to change
Listening skills inventory
Are You a Delegator?
Are You a Delegator?
Using delegation to develop your crew
What to delegate
What not to delegate
Ten delegation rules
Positive Workplace
Creating a Positive Workplace
Performance problems
Communicating with difficult workers
Say no with tact and professionalism
Engaged Team
Creating an Engaged Team
A formula for employee retention
Coaching employee performance
A continuous leadership cycle

Construction U courses are for ABC members only!

Learn more about membership in ABC of Wisconsin.
OUR BLOG
Stay up to date with our Chapter news.
JOIN ABC
Become a member.
Grow with us.
Join us and and take advantage
of all the member benefits. 
EVENTS
Don't miss these networking opportunities.
NEWS AND UPDATES
What's happening? Be the first to know.