ABC of Wisconsin
Projects of Distinction
Recognizing the most impressive construction projects in Wisconsin
ASSOCIATED BUILDERS AND CONTRACTORS
Projects of Distinction Awards
The Projects of Distinction highlights the quality and professionalism of merit construction projects by ABC of Wisconsin members.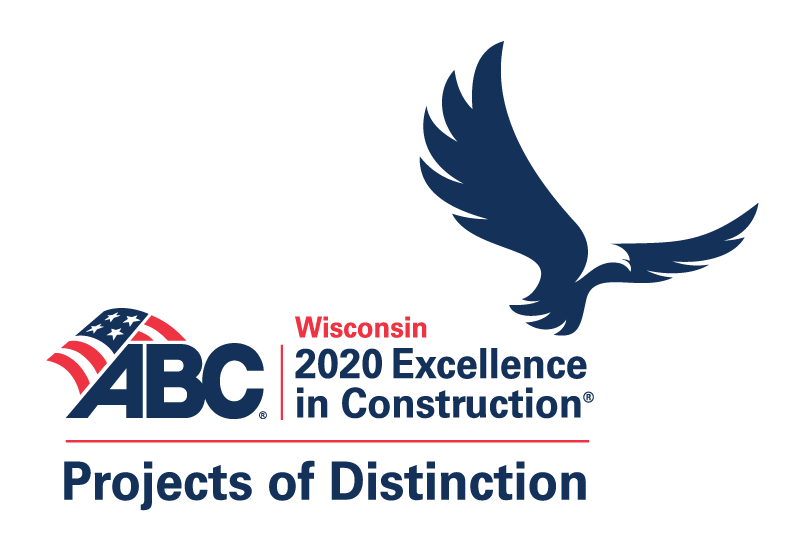 Important Dates
2020 Projects of Distinction Awards Banquet scheduled for Feb. 11, 2021. If necessary, the Awards Program will be presented online.
Eligible project completion dates for 2020: Oct. 1, 2019 to Sept. 30, 2020.
Deadline for all material submission: Wednesday, Sept. 30, 2020, 11:59 PM.
Judging will take place in the month of October.
Projects of Distinction chapter award recipients will be notified in early Nov. 2020.
Gold and Silver award winners are eligible for entry into the National ABC Excellence in Construction (EIC). The registration deadline is October 30, 2020.  However, ABC of Wisconsin member do not have to meet this registration deadline, but all registration and application materials must be submitted by November 20, 2020.
The National EIC Awards Gala is scheduled for March 10 in Grapevine, TX.
Award Categories
Commercial – Under $2 Million; $2 Million to $10 Million; Over $10 Million
Healthcare – Under $5 Million; Over $5 Million
Industrial – Under $3 Million; Over $3 Million
Infrastructure – Heavy
Institutional – Under $5 Million; Over $5 Million
Pre-Engineered Building – Metal Building Under $1 Million; Metal Building $1 Million to $2.5 Million; Metal Building Over $2.5 Million
Public Works/Environmental
Renovation (Restoration & Renovation, including historical)
Residential – Single Unit; Multi-Unit
Other Construction

Green Building
Community/Public Service
Miscellaneous/Special Projects
Electrical: Commercial –  Under $250,000; $250,000 to $1 Million; Over $1 Million
Electrical: Industrial – Under $250,000; $250,000 to $1 Million; Over $1 Million
Mechanical: Commercial – Under $500,000; More than $500,000
Mechanical: Industrial – Under $500,000; More than $500,000
Exteriors
Interiors
Landscaping
Sitework
Carpentry
Concrete
Precast Concrete
Doors/Windows/Glass
Masonry
Plumbing
Thermal and Moisture Protection
OUR BLOG
Stay up to date with our Chapter news.
JOIN ABC
Become a member.
Grow with us.
Join us and and take advantage
of all the member benefits. 
EVENTS
Don't miss these networking opportunities.
NEWS AND UPDATES
What's happening? Be the first to know.